Front AI


Front AI is a leading company specialized in AI based Service Bots understanding natural language and automating routine contacts in customer service.
OUR STORY
World is getting digital. Customer service is getting digital. Customers are using more and more text based communication like Chat, Messenger, WhatsApp,… you name it. Still, we all have experience of chatbots that you can hardly call very ingenious and helpful.
OUR GOAL IN FRONT AI
is to change this and help our customers to implement next generation intelligent Service Bots that understand any language or any dialect and do not mind about spelling mistakes. We implement Service Bots that actually help our customers to perform routine tasks, automatically, without human intervention, tirelessly and 24/7.
Front AI
WE ARE LOCATED
SWEDEN OFFICE
Eriksbergsgatan 8b,
114 30 Stockholm
FINLAND OFFICE
Lapinlahdenkatu 16,
00180 Helsinki.

DENMARK OFFICE
Tuborg Boulevard 12,
DK-2900 Hellerup
CONTACT US
info@front.ai
Följ företag:
Dela:
Våra events
---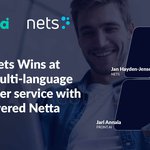 Start: 4 November 2021 10:00 - 10:45
Plats: